Men in Tights – Riding hard through the streets of Itaewon
Michael Wright, Interview with an Itaewon Legend
(The Founder of Seoul Synergy Triathlon Team)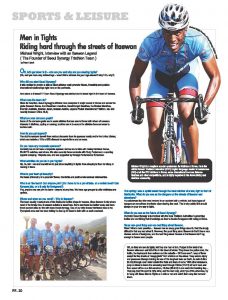 OK, let's get down to it – who are you and why are you wearing tights?
(Oh, and you have very defined legs – wow! Wait a minute! Do you shave your legs? Why? Oh, why?)
Why did you start Seoul Synergy? It was created to provide a club in which athletes could promote fitness, friendship and positive international relationships right here on the peninsula. And where is it based? Team Seoul Synergy was started and is base right in the heart of Itaewon.
What does the team do? Since its inception, Seoul Synergy's athletes have competed in major events in Korea and across the globe (Ironman Korea, the Chuncheon marathon, Seoul DongA Marathon, the Boston Marathon, Ironman Australia, Ironman Austria, Laguna Phuket International Triathlon, etc.). What are your common goals? Some of the common goals are to assist athletes that are new to Korea with others of common interests in triathlon, cycling or running; another one is to ensure the athletes have someone to workout with.
How do you get support? The club's members benefit from various discounts from its sponsors locally and in the United States; which can include a 15 to a 55% discount on sports items and or races.
Do you have any corporate sponsors? Currently we do not have a corporate sponsor, but we are in talks with Harley Davidson Korea, Suunto Watches and others; and currently have a contract with Rudy Project.com a sporting apparel company.
What activities do you do in your tights? Ha, ha, ha! I can and sometimes do just about anything in tights: from sleeping in them to biking or running in them.
What is your team philosophy? Our team philosophy is to promote fitness, friendship and positive international relationships.
Who is on the team? Can anyone join? (Do I have to be a pro athlete, or a certain level? Can Koreans join, or is it only for foreigners?) Yes, anyone one can join the team; anyone at any time. We have age grouper to elite triathletes and cyclists.
Where and when do you meet? – Why in Itaewon? The team usually meets at Starbucks Coffee shop in Itaewon; since Itaewon is the where most of the foreign live; it seemed suitable to meet here. Some members live further away and have travel several miles to ride with team Seoul Synergy. One of our top elite women triathlete lives in the Pyongtaek area and has recently taken the bus up to Seoul to train with us each weekend.
This spring I saw a cyclist crash through the back window of a taxi, right in front of Starbucks. What do you see as the dangers on the streets of Itaewon and elsewhere? That's unfortunate the rider was involved in an accident with a vehicle; however these types of dangers are sometimes inevitable when sharing the road; this is why safety first should always be your the way to think.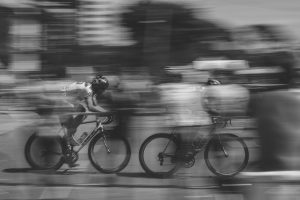 What do you see as the future of Seoul Synergy? Currently Seoul Synergy is in involved with the local Triathlon Authorities and Governing bodies and combining their knowledge on how to involve foreigners with racing in Korea.
Name one good thing and one bad thing about Itaewon? Wow! What a hard question; Itaewon has so many great things about it, that it is simply difficult to find any bad in Itaewon; however the good thing about Itaewon is that it has a very diverse culture of foreigners; and the bad thing about Itaewon is that Itaewon isn't big enough to house so many people.
Summary –
OK, so they are men in tights, but they are men of iron. Forged in the heat of an Itaewon afternoon and full of fire in the dead of winter. They brave the yellow dust, the traffic, the haphazard river walkers and the cat calls – OK there aren't many of those except for the shouts of "waegugin ita" from children on the street. They endure injury and persevere through training for one of the toughest tests on Earth, to swim 3.8km (2.4mi) through open water amidst the froth and foam of some 1500 other swimmers, jump on bikes to brave the oncoming heat through 180km (112mi) of hard road, and then speed off to run a full marathon, 42.2km (26.2mi) in one real mind bending day… They say that this sport is 70% mind, and the rest body, and if you think otherwise, try to hang with these Men in Tights on a ride or run and watch them drop the hammer down.
Note: Michael Wright is a longtime popular spokesman for triathlon in Korea. He has been an English language presenter at several international Ironman and other competitions and is highly regarded in the Korea biking and triathlon community.